Vertical Sunbed "Tan Can"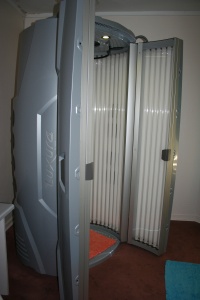 • Latest technologies, more hygienic and quick tanning under conditioned circumstances
• 5 minutes tan can session = 20 minutes horizontal sunbed
• Special tan lotions not required, but are available for purchase on request
• Multiple globes ensure even suntan
• All globes serviced and replaced regularly
Any form of unprotected exposure to sun and/or a tanning devices can be harmful to your skin.
There is a lot of awareness around Skin cancer and Skin protection. Within Zest's environment we strive to control the exposure and to lead and guide every client to good protection and hydration of the individual's skin by only allowing a client to tan after a proper consultation and providing the client with the correct information and products to support a healthy tan and skin.